About Taxidermy Co. UK
Hello and welcome to Taxidermy Co. UK, I hope you enjoy what I have to offer!
Taxidermy Co. was founded by Krysten Newby, an artist, designer, taxidermist and wildlife fanatic residing in the rural town of Bury St Edmunds, Suffolk.
Originally, Krysten started her own taxidermy brand called 'Perished Pets' which was intended as her final end of year university project.
In the process, she merged her passion of graphic design with taxidermy, creating the logo, bespoke packaging, website store and all of the fine details (and the taxidermy, of course!).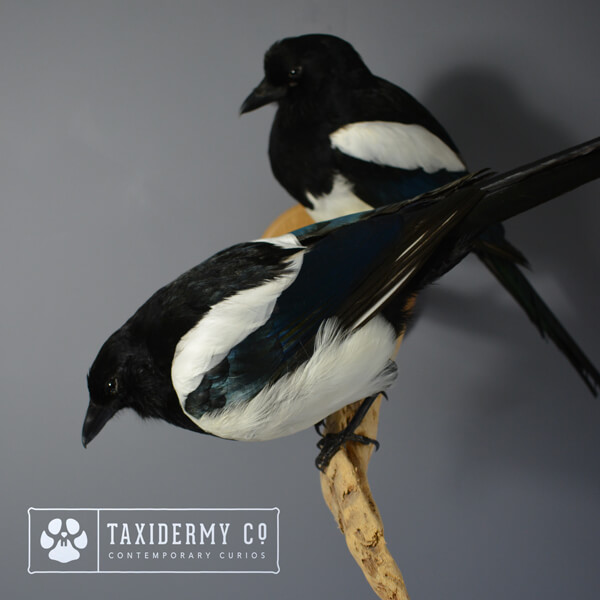 She soon realised after the amount of people that were interested in this unusual art, that she absolutely had to pursue taxidermy.
Taxidermy Co. is essentially an extension of Perished Pets, but with broadened horizons.
There's now a lot more on offer; Apart from High Quality Modern Taxidermy, various animal Osteology Specimens, Entomology Specimens, Faux Taxidermy and other special one of a kind items are now available.
SaveSave
Legalities
Good To Know
As a professional Taxidermist, I am very aware of rules and regulations issued by DEFRA and I fully comply with various wildlife laws set in place. I hold the required licenses for the possession of some protected species, such as birds of prey. A record of this will be included with your purchase, so you can buy with confidence.
For domestic species such as rabbits, rats & mice etc., no licenses are required and are perfectly legal to own. For more information on the Taxidermy Law, please visit this very reputable and informative site: Taxidermy Law
Product Sources
Ethically Sourced
The specimens sold on this site are ethically sourced from local roadkill, the result of a natural death, or the result of ethical, legal pest control.  Specimens (mainly rodents) are also sourced from a local frozen zoo food suppliers, where the animals are killed humanely and are intended to feed other animals in conservation.
As a lover of all wildlife, I'd never EVER inflict any pain on any living creature, ever. In all cases, I will even go out of my way to save an animals life if I find an injured one in the wild!
Services
Commissions
If you are after a particular product, sometimes custom taxidermy orders will be available. If you require an animal in a particular pose/setting or with a unique feature, for example; maybe you are are looking for that perfect birthday gift for the friend that has everything…how about a mouse holding a birthday balloon?! Do get in touch today and we can process your order. Please note that stock is subject to availability. 
In the UK, although exact figures are unknown, at least thousands of animals die as a result of vehicle collisions on our roads each day. That's a lot of roadkill! If you spot a roadkill whilst out and about, you can really help by reporting your sighting to Project Splatter. A fantastic campaign to collect more data around this issue, which could ultimately reduce the impact of roads on our UK wildlife.