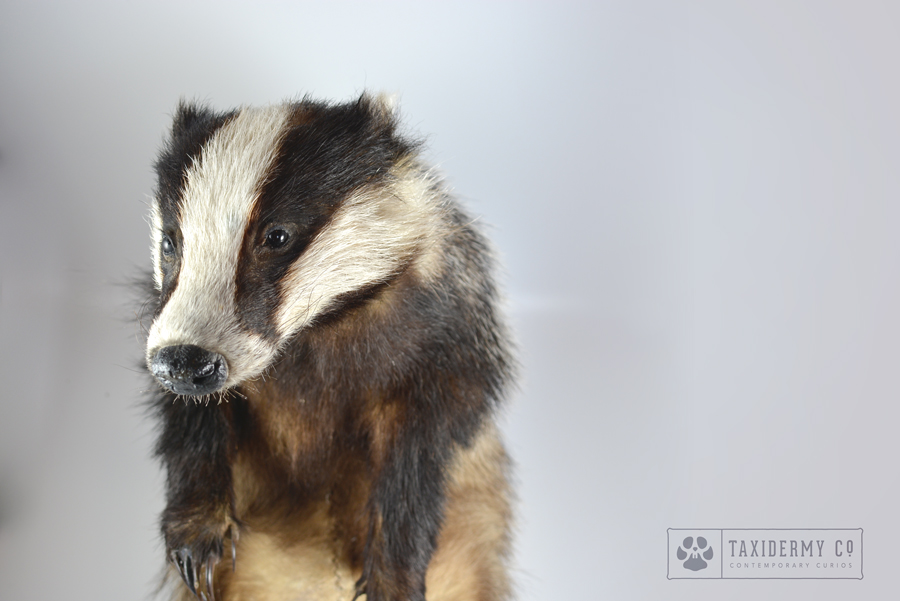 [spb_text_block title="Taxidermy Badger" animation="none" animation_delay="0″ simplified_controls="yes" custom_css_percentage="no" padding_vertical="0″ padding_horizontal="0″ margin_vertical="0″ custom_css="margin-top: 0px;margin-bottom: 0px;" border_size="0″ border_styling_global="default" width="1/1″ el_position="first last"]
I actually started this juvenile Eurasian Badger (Meles meles) a couple of months ago but he's taken a while to complete!
This was the first badger specimen I have worked with, so I wasn't sure what to expect! I was nervous of the various scent glands they have, but honestly, foxes smell much worse. The skin was also super thick and hard to process and his tummy reminded me of pig skin almost.
It was donated to me by a local wildlife officer who found him by the side of the road after being hit by a car.
Originally, the plan was to model him in an on all fours pose, but during the skinning process I noticed a large patch of fur that was missing just above his tail on his back that was heavily 'grazed' presumably from the traffic accident.
Unfortunately due to this, he did loose a fair bit of fur so I had to remove that area and sew back up which did disguise this patch somewhat, but this wasn't his 'best side'. I took the decision to pose him in this sitting upright position, which disguises the defects and now shows off his best features.
I absolutely hate it when things don't go to plan, especially with commissions, but in scenarios like these, I have to decide what is best to do justice to the animal. It's much better to work with what I've got than to dispose of the skin all together.
His skull is being processed by a fellow taxidermist friend who has dermestid beetles. She discovered that this young badger's atlas bone was completely fused to his cranium so I am sure the poor thing wouldn't have been able to have full flexibility of his head and may have even been in pain!
All in all, despite the challenges that came with this specimen, it's been a great experience and a treat to see a Badger up close and personal as I've never seen one so close before!
---
[/spb_text_block] [spb_blank_spacer height="30px" width="1/1″ el_position="first last"] [spb_gallery gallery_id="15444″ display_type="masonry" columns="3″ fullwidth="no" gutters="yes" image_size="medium_large" slider_transition="slide" show_thumbs="yes" autoplay="no" show_captions="yes" enable_lightbox="yes" width="1/1″ el_position="first last"]