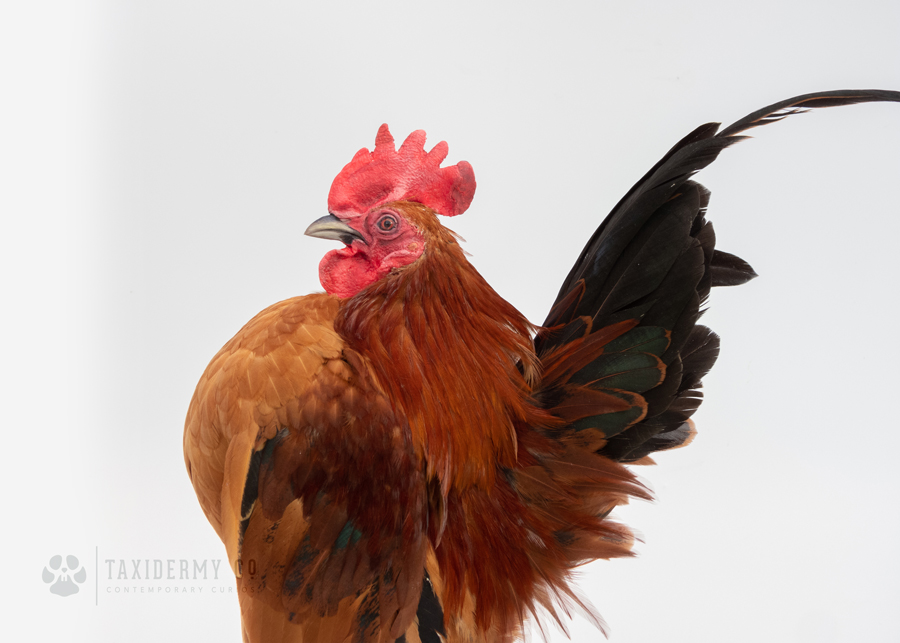 The smallest chicken in the world
I was recently given the challenge of recreating a beloved pet Serama chicken, 'Artemis' –  the smallest breed of chicken in the world!
---
I knew this project would be a challenge, as it involved casting the head. I've cast many heads before, but this one was different as it was being used for the exterior and is the main focal point of the mount, so it had to be near perfect!
It is possible to taxidermy the whole specimen with the head comb and wattle in tact, but the disadvantage of this is shrinkage.
The skin shrinks as it's drying, so if I had left it, it would look a lot less 'plump' and alive once complete, plus having a resin cast head will make it less appealing to any nasty pests that want to have a feast in the future.
Carefully skinning the
head where feather meets bare skin was very nerve wracking – the head is the area you do NOT want to mess up on a taxidermy mount!
Once I had done this and wiped the sweat from my brow, I injected the comb with water, pinned everything in position, inserted glass eyes and placed in the freezer overnight.
By the end of the next day, I have made a silicone mould of Artemis's frozen head.
After the silicone had cured, I removed the head from the mould and poured in the fast cast resin. It took a few attempts to get the most suitable cast, as previous attempts had air bubbles and parts of the comb didn't come out very well. Also, I only had limited attempts as I only had a limited amount of glass eyes that were set in to the resin cast, eek!
Painting the head was the next step – I did this with a whole palette of oil paints, using photos of Artemis as reference to get the colour right.
Thank you, Kimberly!
In all honesty, I would not have been able to carry out this project if I didn't have guidance from the fabulous Kimberly Bunting of Flock Taxidermy.
She made a fantastic, thoroughly detailed tutorial on how to cast a chicken head which made me feel a lot more confident taking on this project, so I would like to say a massive THANK YOU to her for doing this!
The unique nature of the Serama Chicken's posture made it more difficult than your average bird to pose, but overall I'm so happy with how this little champ turned out.
Now he can be reunited with his owner!